Famous Derbyshire People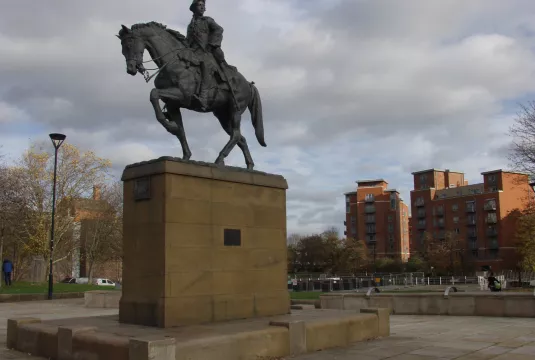 Throughout the centuries Derbyshire has been associated with a great number of famous people. Many of whom have made their name and reputation in the Derbyshire locality and have gone on to stamp their name in history.
Included so far (listed chronologically):
Bess Of Hardwick (1518 - 1608)
Bess of Hardwick was renowned for being one of the wealthiest and most powerful woman in the country, second only to Queen Elizabeth 1st. Much of this wealth and power is attributed to the fact that she was married four times, through which she accumulated land and property.
She was due to be married as a child, but her opposite died before the marriage could take place. She then married Sir William Cavendish in 1547, whose descendants in line are the Duke of Devonshire, and two years later they bought the Chatsworth estate for a total of £600. The house that stands today is the second to be built on the estate, the first being replaced in the late 17th century.
A later marriage saw her becoming the wife of George Talbot, Earl of Shrewsbury, who at the time was one of the most powerful men in the country. When he later died in 1590, Bess was to become the wealthiest woman after the queen in the country. Bess had Hardwick Hall built around this time, which is a major property owned by the National Trust.
She died in 1608, leaving a great amount of land to be divided between her offspring, and is buried in Derby Cathedral.
Izaak Walton (1593 - 1683)
Although born in Stafford and spending much of his life in London, Izaak Walton was a great friend of Charles Cotton, and spent a great deal of time fishing the banks of the River Dove.
Walton is the author of 'The Compleat Angler', recognised as one of the classic writings on angling to be written, and has been reprinted over 300 times making it one of the most reprinted books in the history of English Literature.
In Beresford Dale there still stands the remains of a temple that he and Cotton built together in honour of their favourite pastime.
Erasmus Darwin (1731 - 1802)
Erasmus Darwin was raised in the village of Lichfield, after being born in Nottinghamshire. He was the co-founder of an intellectual group known as the Lunar Society, along with James Watts and Joshua Wedgewood, and later on another group known as the Derby Philosophical Society.
Darwin had a highly active mind, and came up with many ideas involved with all the scientific disciplines. Some of his ideas included concepts for submarines, lifts, and air travel among a great many others.
Among his most noted works are 'The Botanic Garden' and the 'Temple of Nature or the Origin of Society'.
Darwin lived in Full Street in Derby before moving to Breadsall Priory where he was to die in the year 1802. He had two famous grandsons, one the famous naturalist, Charles Darwin, the other the biologist, Francis Galton.
Charles Edward Stuart (1720 - 1788)
Bonnie Prince Charlie was not a native of Derby but an interesting piece of history has close connections with the city. Considered as the hope for a Catholic King to replace the then Protestant throne of England, Charlie led an army down from Scotland in the year 1745, an army of over 6500 men, in the hope of reclaiming the throne he considered to be rightfully his.
On the 4th December, Charlie and his army entered the city of Derby. The Duke of Devonshire had held a war council the previous day, and decided that the Derby Blues retreat under the threat of the advancing Jacobites.
The Jacobites held a meeting and eventually decided to turn back to Scotland. Some men were sent out to Swarkestone Bridge in an attempt to confuse the Kings men, as the retreat began.
Charles Edward Stuart and his army suffered a terrible defeat the following year at the Battle of Culloden Moor.
Fleeing from the British Isles, he wandered Europe before he settled in Rome. It was here that he was born, and in the year 1788 he also died.
Jedediah Strutt (1726 - 1797)
The other great pioneer of the cotton spinning industry alongside Arkwright, Strutt was born in Newton by Blackwell in Derbyshire, and conducted an apprenticeship under Ralph Massey in 1740, from Findern in Derby.
Strutt first began by improving the stocking frame, previously invented by William Lee a century beforehand, modifying his original design into a far greater piece of machinery. Production work was carried out at Strutt's mill in Derby.
Strutt, along with his partner William Needham, collaborated with Arkwright and raised the money to build a mill on the River Derwent at Cromford. Increasing demand led to further mills being built at Belper and Millford.
Strutt lived in Milford until 1795 when his first wife, Elizabeth Woollat died, then moved to Exeter House in Derby with a second wife, Anne Daniels.
Strutt had a good reputation as an employer who took some care of his workforce, even though it contained many young children as was common for the time. He died in 1797 and is buried in Belper at the Unitarian Chapel that he built.
Sir Richard Arkwright (1732 - 1792)
Starting life as a barber and a wig maker, the Preston born factory pioneer had become interested in the mechanics of cotton spinning machinery on his travels around the country. Through such inspiration, he and a watchmaker named John Kay were to work together producing the design of first the spinning frame and later on the water frame.
This revolutionised the trade giving far greater production increases to the process that prior to this had to be conducted entirely by hand. The machine they designed and built had enabled almost anyone to operate it; so simple was it in its design and implementation. This led to the factory system being enforced across the country, and is seen as a major development to the country's industrial heritage.
His first mill, which he began to set up in Cromford in 1771, brought about a whole community in which to work. This mill is world-renowned, for its use of the water-powered process used in place of horse drawn power far outweighed the earlier process used.
Arkwright built a second mill in 1776, but this was to burn down in 1890. He continued to develop the process' he had devised and implement these throughout the country.
Arkwright's work was admired and copied across the globe. He made his home in Cromford and the village also became his final resting place, when he died aged 60 in the year 1792.
Joseph Wright (1734 - 1797)
Born in Irongate, Derby, to the son of an attorney, the famous painter first studied at the Derby Free Grammar School, before moving to London where he studied under the portrait painter Thomas Hudson.
Wright returned to Derby after two spells in London, and continued to paint portraits earning money so that he could focus on more personal interests, namely landscape and scientific subject based painting.
He was close friends with local scientists and intellectuals, including Erasmus Darwin. Some of his better-known works include 'The Alychemist', and 'The Orrery'.
Wright had married Anne Swift in 1773, and together they lived at the old St Helens House until her death. Following this loss, Wright moved to Queen's Street in Derby, and died there in 1797.
Click here to view a gallery of some of Joseph Wright's w
Thomas Cook (1808 - 1892)
Thomas Cook was born in the village of Melbourne, and after leaving school at the age of 10 he had several jobs before he became involved in the temperance movement and became a Baptist missionary.
This forerunner of the modern travel world devised what is the first paid excursion in 1841, by charging for an 11-mile train journey from Leicester to Loughborough with the co-operation of the Midland Railway. Proving a huge success, Cook began to pioneer the way forward in travel through organising more rail excursions.
Further excursions included taking 500 paying customers from Leicester to Glasgow, and the organisation of visitors attending the Great Exhibition in London's Hyde Park.
Moving to London, the business grew in stature and Cook began organising train tours across Europe, to America and then as round the world trips.
His son was to become partner in the business Thomas Cook & Son, who eventually took over the business with his own three sons when Thomas Cook died in 1892.
Florence Nightingale (1820 - 1910)
Born to William Edward and Frances Nightingale (in Florence, Italy, hence her name). As a child she enjoyed learning and developed an interest in social issues, visiting her local hospital and the homes for the sick.
Her parents considered the nursing profession inappropriate for Florence's social standing, she was actually denied her wish to train as a nurse. However, in 1851 she finally had her way and trained in Kaiserswerth and Paris. Two years after this she became superintendent of a hospital for invalid women in London.
She is best known for her work during the Crimean War where she organised a team of 38 nurses, substantially reducing the mortality rate by applying strict sanitary routines and discipline at the barracks hospital in Scutari, Italy. After the war she returned to England and with a fund of £50,000 established a training institution for nurses as St Thomas's Hospital and King's College Hospital, London.
Florence Nightingale can boast two major achievements. She was the founder for training schools for nurses and was elected Fellow of the Statistical Society following her contribution's to the army.
Henry Royce (1863 - 1933)
Born in Rutland, the co-founder of Rolls Royce Ltd started his trade as a manufacturer of cranes, dynamos and motors, before moving on to designing experimental cars. His company, Royce Ltd, did very well, but he was later approached by a motor dealer by the name of C.S. Rolls who proposed to produce the cars he designed, their two companies merged in 1906 forming Rolls Royce Ltd.
The famous Silver Ghost was produced at the Nightingale Road site in Derby, starting in 1907 and continuing for over 20 years, and was considered to be the best production car in the world.
Henry Royce never lived in Derby, but the legacy has continued both in Derby and throughout the rest of the world to the present day.
D. H. Lawrence (1885 - 1930)
David Herbert Lawrence, famous poet, writer and painter, born in Eastwood, Nottingham, was the son of a miner. Working in an office led to him becoming a teacher and attending Nottingham University to later qualify for the role.
In 1909, he had some poems published in The English Review, and following on from this he wrote his first novel, 'The White Peacock' and followed this with the novel, 'Sons and Lovers'.
When he eloped to Germany with the wife of a professor at the university, Lawrence became a minor fugitive in this country, returning to England in 1914, after the outbreak of the First World War.
After spells in Cornwall and Europe, Lawrence moved to Derbyshire where he lived for a period of 18 months in Middleton by Wirksworth. Whilst there, he wrote the short story 'Wintery Peacock'.
After leaving Derbyshire he travelled a great deal and spent many years in Mexico and France. He died while in France, a victim of tuberculosis.
Among his best-known works are 'Women in Love' (1920) and 'Lady Chatterley's Lover' (1928).
Joe Davis OBE (1901 - 1978)
Born in Whitwell, Derbyshire, Joe Davis was the holder of the first ever-professional World Snooker championship, which was held in Nottingham in 1927, a title he would hold many times; along with that of billiards champion.
He practised as a young boy when his father took over the Travellers Rest pub in Whittington Moor, which contained a full-size billiards table.
His success prompted a move to London, and in total won world snooker and billiards titles 10 times. He was also the first player ever to get a recorded maximum break of 147.
His brother Fred also notched the world title a total of eight times in his playing career.
Stanislaw Jozefiak (born 1919)
Stanislaw Jozefiak was born on 10th September 1919 on a farm in Skalmierzycach near Ostrow Wielkopolski, a town in Central Poland. At the time this was written (January 2009) he still lived in Derby and maintained strong ties with Poland. In 1996 he wrote his autobiography: God, Honour and the Homeland. This is his story:
Between 1937 and 1939 he attended an aviation school where he was trained as a radio operator and air gunner. In September 1939 he was one of a group of students who were evacuated to Romania where he was interned in a camp at Timisoara, about 60 kilometres from the Jugoslavian border. The following month he escaped and crossed into Jugoslavia, but was recaptured after five days and returned to the camp.
He escaped again, in November 1939, and made it to the Polish Embassy in Bucharest, Romania from where he was taken to the port of Constanta on the Black Sea and on to Beirut, Lebanon on board the Romanian ship Transylvania en route to Marseille, where he arrived on November 1939. He made it to the Polish depot at Lyon-Bron. On 20th January 1940, he set sail from Le Havre, France to Southampton, England.
On arrival in England, he learned English and finally qualified as a radio operator and air gunner and was promoted to Sergeant. He was assigned to 12 OTU at RAF Benson and on to RAF Penrith. On 7th April 1941 he was transferred to the newly formed 304 Squadron at RAF Syerston. It was here he teamed up with his permanent crew until the fateful mission to bomb Boulogne, France on the night of 28/29 May 1941.
After completing the mission on Wellington bomber R1392, the aircraft was hit by flak which destroyed one engine. Amazingly the pilot recovered control of the aircraft, which was plummeting towards the sea, and they limped back to England on the remaining engine. One of the crew baled out over Boulogne and his body was never found. Sergeant Jozefiak and another crew member baled out over England and both were injured, Sergeant Jozefiak broke his leg and spent several months in Sussex County Hospital. He had been taken there by the local Home Guard, who initially mistook him for a German pilot. The pilot and the other two members of the crew were killed when the aircraft crashed at Darwell Hole, Sussex.
Many years later, as an octogenarian, Stanislaw Jozefiak returned there and build a monument with his own hands. The brass plaque and Polish eagle were supplied and made by apprentices at Rolls Royce who made the engines for the original Wellington bomber.
At the end of January 1942, he returned to his Squadron and flew, with various crews, a total of 53 missions, far more than the obligatory tour of 30 normally expected of aircrew. His targets were mostly ports and industrial cities in France and Germany (with Bomber Command) and then against submarines in the Atlantic Ocean and the Bay of Biscay (with Coastal Command). He then went on to RAF Blackpool, RAF Hucknall and various other RAF stations where he trained as a pilot flying Tiger Moths and Miles Masters.
On 14th September 1944 he was assigned to 639 Squadron RAF which was an anti-aircraft co-operation unit, flying Hawker Hurricanes. On 23rd January 1945, he moved to RAF Rednal where he flew Supermarine Spitfires, eventually moving, on 2nd June 1945, to 317 Vilnius Squadron, RAF and serving in Germany where he stayed until the dissolution of the squadron on 18th December 1946.
He was promoted to Squadron Leader and was awarded the Silver Cross of the Order of Virtuti Militari and the Cross of Valour (three times). On demobilisation he joined the Polish Resettlement Corps, finally becoming a civilian in 1949. He settled in the City of Derby, where he worked at a textile factory. In 1951, he took a job as a pilot with the American CIA but later returned to the factory, ending up as its head of security. Later he bought a furniture and carpet store which he ran until his retirement.
Ellen MacArthur (1976 - )
Born in Derby City Hospital in 1976, Ellen first became interested in sailing at the age of 8, after sailing trips with her aunt. By the age of 18 she had won 'BT/YJA Young Sailor of the Year' by sailing alone around Britain.
In 1997, at the age of 21, she raced 4,000m single-handed across the Atlantic over 33 days in the 'Mini Transat' race in a 21ft Classe Mini yacht, which was bought and refitted by herself.
In 1998, Ellen gained 2 more accolades 'BT/YJA Yachtsman of The Year' in the UK and 'Sailing's Young Hope' in France.
In 2000, Ellen secured sponsorship from Kingfisher for the toughest challenge that the world's oceans have to offer: the Vendée Globe - a race around the world over 100 days, ALONE