Chesterfield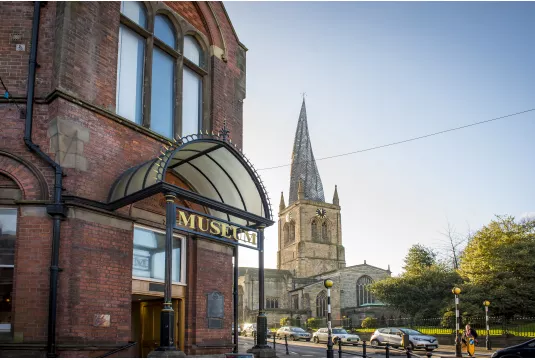 About Chesterfield
Chesterfield is a bustling market town with a population of approximately 103,800 (in 2011). It is the largest town in Derbyshire, after the city of Derby, and is known as the Gateway to the Peak District. It lies 24 miles north of Derby and 11 miles south of Sheffield, at the junction of the rivers Rother and Hipper.
Chesterfield is famous for the 'Crooked Spire' of its Parish Church, which stands on the skyline like a question mark – how did it happen? Answers are easy to come by. Some blame the Devil, some say lightning, one 'expert' even blamed bell ringing! But the truth is a little harder to find. Here's a clue – the lead tiles which cover the wooden Spire weigh 32 tons! Often overshadowed by its Spire, the Church of St Mary and All Saints is an interesting building in its own right. Dedicated in 1234 it's the largest church in Derbyshire and is often mistaken for a cathedral.
The town's Museum tells the 'Story of Chesterfield' from the day the Romans marched up Ryknield Street from Derby to the arrival of railway pioneer George Stephenson, and the birth of modern Chesterfield. But the town has another claim to fame – one of the largest open air markets in the country. There's been a market here since at least 1165, when the Sheriff of Derbyshire recorded an account of £1 2s 7d from the market of Chesterfield. Today, more than 200 stalls pack the town centre every Monday, Friday and Saturday all year round. On Thursdays there's a flea market with at least 100 stalls and, on the second Thursday of each month there's a farmers' market.
There are many other attractions in and around Chesterfield, as well as the pubs, clubs, restaurants, theatre, cinema and range of places to stay that you would expect from Derbyshire's largest town.
History of Chesterfield
The town of Chesterfield now stands over a Roman site that in turn stands on top of an Iron Age fort. The Domesday book calls the town Cestrefield, meaning 'open field', which points towards its success as a market town. The market still remains a bustling area of the town itself, running on a Monday, Friday and Saturday. The Victorian market hall stands in the centre of the old market, containing various shopping facilities and nearby is the Shambles, with narrow streets of shops and tearooms that has its history rooted as far back as the 12th century.
Featured Accommodation in Chesterfield
Featured Places to Visit in Chesterfield
Featured Activities in Chesterfield