Matlock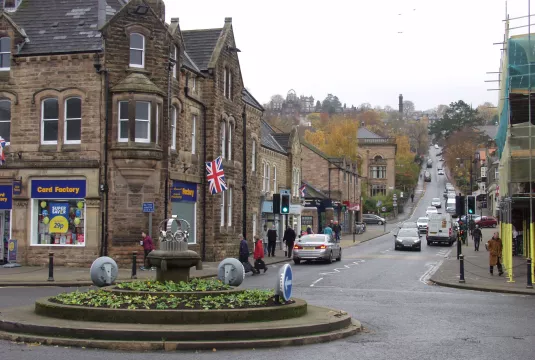 What's On
Sat 2nd December Matlock Victorian Christmas Market
Matlock Bath
Sat 16th December Matlock Christmas Market
Hall Leys Park
---
With the summer ahead many country roads are used by large agricultural machinery so please take care and give consideration to other road users.
About Matlock
The town of Matlock is situated on the edge of the Peak District National Park. A former spa town lying alongside the River Derwent, Matlock is the historic County town of Derbyshire. The popular tourist resort of Matlock Bath is a short distance away following the course of the river valley which is renowned for its industrial heritage sites. The town remains home to Derbyshire County Council's offices but is also a vibrant centre for shopping and tourism enjoying good transportation links to both north and south.
It wasn't until the 19th century that Matlock began to develop significantly as a spa town; previous to this it was made up of a collection of villages converging around the church, the main trade in the area being agriculture.
John Smedley was the man responsible for the turn-around in Matlock fortunes having brought the process of hydrotherapy to the town and built the 'Hydro' an imposing building overlooking the town, and which served as a spa from 1853. Indeed, at the height of its popularity, there were over 20 spas in use at the Hydro, served by trams which transported residents up the steep local inclines. It wasn't until the 1950s that the spa eventually closed and the building became the County Offices.
Smedley also built Riber Castle (now a hotel and restaurant) which stands in an elevated position on a hill overlooking Matlock and the surrounding area.
The town itself offers a variety of shops and there are numerous places to dine and stay in the vicinity. As a base the town is convenient for attractions at Matlock Bath, the Heights of Abraham, Gulliver's Kingdom, Masson Mills shopping village and much more.
Featured Accommodation in Matlock
Featured Places to Visit in Matlock