Derby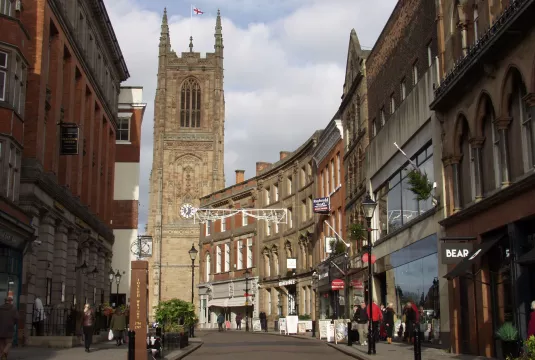 What's On
Monday 19th June to Friday 23th June
Derby Arboretum Well Dressing
For more details click here
22nd - 26th June
Derbyshire Sausage and Cider Festival
Catton Park, Walton-on-Trent, DE12 8LN
For more details click here
29th June - 2nd July
Back 2 Festival Catton Park, Walton-on-Trent, DE12 8LN
For more details click here
---
With the summer ahead many country roads are used by large agricultural machinery so please take care and give consideration to other road users.
About Derby
Derbyshire's largest cathederal city, Derby is well known for it's green spaces and wide range of pubs and restaurants, and plenty to see and do.
Derby is a vibrant, compact and accessible city which is home to approximately 250,000 people. It can easily be reached by all modes of transport, road, rail and air, since it is situated in the Midlands.
The average minimum temperature in Derby is 1C whilst the average maximum is 21C. Despite its distance to the coast, Derby has an oceanic climate along with the rest of the British Isles.
Derby was settled by Romans who established a camp known as "Derventio", which is now known as Little Chester/Chester Green and was the site of a Roman fort. Later came the Saxons and Vikings who made Derby one of the Five Boroughs of the Danelaw.
Initially a market town, Derby grew quickly and has a claim to be a birthplace of the Industrial Revolution. In 1717, Derby was the site of the first water-powered silk mill in Britain.
Featured Accommodation in Derby
Featured Places to Visit in Derby
Featured Eating Out in Derby
Featured Activities in Derby