Pavilion Gardens
The Pavilion Gardens is a wonderful, historic venue situated in the heart of Buxton. Nestled in 23 acres of recently restored pleasure gardens,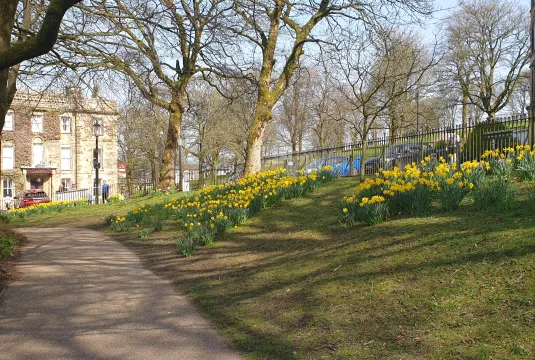 About Pavilion Gardens
The Pavilion Gardens is a wonderful historic venue situated in the heart of Buxton. Nestled in 23 acres of recently restored pleasure gardens, the main building is a natural base for tourists coming to the town.

Every year, the Pavilion Gardens hosts over 100 fairs, events and Farmers Markets and we aim to hold good event for our customers most weekends.

Most of the events take place in the Octagon Hall or the Paxton Suite. Most weekends from Easter to the end of September, there will be a Brass Band playing on the Bandstand from Sundays from 2pm – 4pm.

Opening Times:
The Pavilion Gardens open from 9.30am every day of the year (except Christmas Day). Closing times vary throughout the year, but generally close at 5pm every weekend and during summer months. The Pavilion Gardens usually close at 4pm weekdays in Spring/Autumn and 3pm weekdays during the winter.

However, the Pavilion Gardens open on an evening during summer festivals for drinks and pre-show meals but it is always best to contact us and check specific opening times before you travel.

Car Park:
The Pavilion Gardens have a 270 bay, pay & display car park, which is situated on the corner of St. John's Road and Burlington Road.

Coach Parking:
The Pavilion Gardens allow coaches to drop their passengers off on the Promenade and there are four coach bays on Burlington Road. However, if coaches wish to park immediately on Burlington, it is only a two minute walk to reach the main Pavilion entrance. The Sylvan Coach park is situated off a roundabout at the intersection of the A6/A53. For directions from the Pavilion Gardens, please contact us.

Disabled Access:
There are 8 disabled car parking bays on the lower level of the car park. The Ground floor of the Pavilion is accessible to wheelchair users throughout. There is a disabled wheelchair lift from the foyer to the Paxton Suite. The Paxton Suite is still split level, so wheelchair users will only be able to access the entrance level area.

Please note that there are disabled toilets in the Pavilion, car park and kiosk. The car park and kiosk toilets are accessible by use of a Radar key. If you have specific needs, please contact us by one of the above methods and we will assist you wherever possible.
Features
Car Parking
Children Welcome
Disabled Facilities
Restaurant